---
---
JUST UPDATED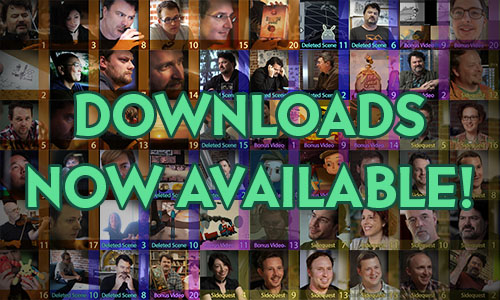 The Double Fine Adventure now supports downloads of the video files on Steam!

The main series (Ep 1-20) requires 46gb of storage space. Bonus content in the DLC bundle (Sidequests, Bonus Videos, Deleted Scenes) requires an additional 46gb of space. Please be sure you have the available space before committing to download.

Click here to begin downloading the files.

Files come as high quality mp4's transcoded directly from the original masters with embedded media library metadata. The 20 episode main series also contains subtitle support and both commentary tracks.
ABOUT THIS SERIES
The collaboration between 2 Player Productions and Double Fine Productions that launched a historic Kickstarter campaign has reached its conclusion! A three-year journey spanning twenty episodes, the "Double Fine Adventure" series chronicles the creation of "Broken Age," from a germ of an idea in Tim Schafer's notebook to a finished game and beyond.
Along the way, the team is confronted with production delays, internal strife, and outside controversy in what is the most honest, in-depth look at video game development ever created. Previously exclusive to Double Fine's Kickstarter backers, now everyone can share in the passion, humor, and heartbreak of this landmark documentary series.
This series is currently available on Steam through HD streaming and includes
two commentary tracks
per episode and subtitles.
---